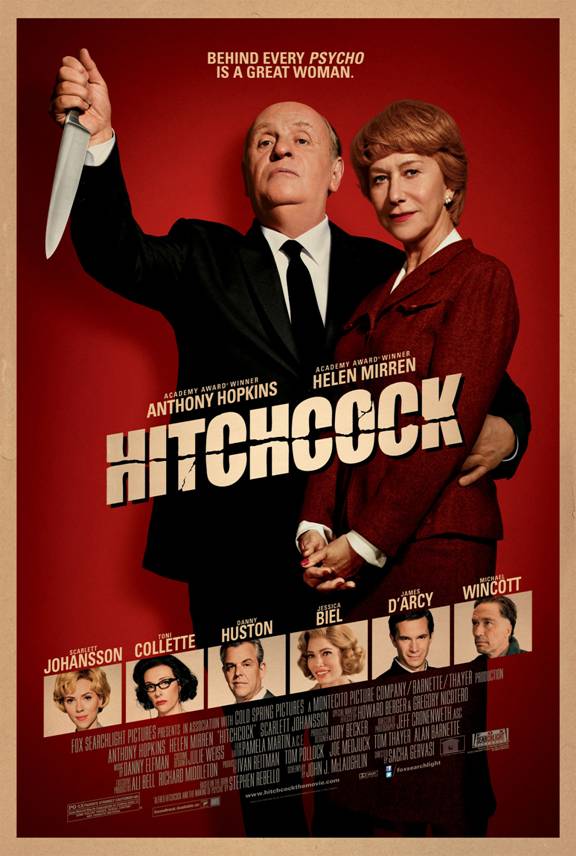 Year: 2012
Director: Sacha Gervasi
Cast: Anthony Hopkins, Helen Mirren, Scarlett Johansson, James D'Arcy, Jessica Biel, Toni Collette
Before I begin my review…
Let me have a selfish moment, I was so, so excited about Hitchcock considering I am a HUGE Alfred Hitchcock fan.
HUGE as in the man is my all-time favourite director. In a time where something a little too different in a film was considered not risky but just plain wrong, Hitchcock was the only director who could try something different in his films and be considered an absolute genius. He embraced film as the art form that it is as well as wanting to completely enthral his audience.
Like all old Hollywood films, actors and directors, it upsets me how so many people these days are ignorant to his genius. They only know bits and pieces about the great man. As much as I love Psycho, there are a lot of people out there who have just heard about the movie and haven't even seen it. Then they assume that Hitchcock was primarily a horror film maker as they just think of the Psycho shower scene. He was the master of suspense and yes, Psycho and The Birds are considered horror films, but the large majority of his film catalogue are categorised as mystery and thriller.
Take for example someone I once served when working in retail.
My co-worker: Are you a Hitchcock fan?
Myself: Yes, I am a Hitchcock fan
Customer: What, you're a fan of being scared?
Myself: I'm just a fan of good film making
(Customer gives blank look)
This conversation just proves to me that some people, who aren't film crazy like myself, do not understand the true genius of Hitchcock, nor do they understand that he was one of the greatest film makers of all time and not just a horror film director.
And just because we are on the subject of Hitchcock, my top five Hitchcock films are Vertigo (James Stewart, Kim Novak), Rebecca (Laurence Olivier, Joan Fontaine), North By Northwest (Cary Grant, Eve Marie Saint), Rear Window(James Stewart, Grace Kelly) and Psycho (Anthony Perkins, Janet Leigh), with Shadow Of A Doubt and Marnie.
Everybody is welcome to share their top five Hitchcock films in the comments section!
Hitchcock allows the great man to be seen as never before behind the scenes of one of his greatest movies, Psycho.
For movie lovers, Hitchcock is extremely interesting as it gives you a behind the scenes look at Psycho, but also what happened when the cameras stopped rolling and Alfred Hitchock went home to his wife, Alma Reville. However, people who are not as enthralled with film and its history may find the film slow and lacking in the suspense department…maybe even a tad predictable. However, predictability is something that was always going to be hard to avoid with such a film about a film which is perhaps one of the most popular horror films ever made.
Alfred Hitchcock's (Anthony Hopkins) latest film, North by Northwest has just opened and is a huge success, but Hitchcock knows that you are only as successful as your last film. He takes a chance on Psycho, the film Hollywood is afraid to touch and goes on his emotional journey of dealing with the censors and with his leading ladies. While when he leaves the set, he enters another emotional battlefield with his wife and uncredited business partner, Alma Reville (Helen Mirren).
Perhaps the biggest problem with Hitchcock, which may not even really be a problem, is that you always know where the movie is going. It is no secret that Psycho was a success when it was released in 1960 and still continues to be to this day, so this is really not a film of suspense about the master of suspense. Even Hitchcock's relationship with his wife is fairly predictable.
However, is this really a problem? The film does what it is supposed to be as it informs and entertains whether you know what is going to happen or not. It is great fun to watch and really is very interesting. Hitchcock fans in general will love the film and those who don't know too much about him will find out plenty about him and about the production of Psycho.
The film is quite well made, although there are some interesting choices made by director, Sacha Gervasi. Gervasi has designed Hitchcock as though we are actually watching an Alfred Hitchcock film. He implies that Hitchcock's mind actually did work like one of his films, as is shown in some of his scenes with Alma, especially with the scene in the kitchen. It does work well for the film and makes it a tad quirky, much like Hitchcock's films. However, at times it does seem as though he is trying to do a little too much and trying to make it abstract in ways it doesn't need to be. Once again, nobody can do Hitchcock like Hitchcock.
Yet, some of Gervasi's choices of scenes in the film are a bit odd in that they seem out of place in the film and don't seem to add to the film as a whole. For example, the scenes of Alma with the red bathing suit. You can see what Gervasi is trying to say, but it is already a point that has been made without needing to be pointed out once again.
The script, as written by John J. McLaughlin, is great. It covers every aspect of Hitchcock's relationships and puts beautifully into words his fascination with his leading ladies. The banter between Hitchcock and Alma is also very entertaining.
There are some wonderful performances in Hitchcock. What can you say about Anthony Hopkins? With Hopkins you know you are never going to see a bad performance and this role proves his consistency. Hopkins has studied all of Hitchcock's facial expressions, body language and speech and has it all perfected. He gives a wonderful performance and truly brings the man back to life.
Helen Mirren gives an absolute knockout performance. However, like Hopkins, Mirren is an actor who you just expect brilliance from. She gives an absolutely amazing monologue in the film when Hitchcock asks her for support which sends shivers down your spine.
What both Hopkins and Mirren have in this film, is the ability to tell so much about the way they are feeling without having to use words.
Scarlett Johansson gives an above average performance as Janet Leigh and again brings the actress back to life. Her recreation of the infamous shower scene is her absolute shining moment of the film. James D'Arcy is also a very convincing Anthony Perkins.
Hitchcock is a wonderfully informative and entertaining biopic with some brilliant performances. A must see for any old Hollywood and Hitchcock fanatics. Hopkins does the Alfred Hitchcock complete and utter justice.
References
The Internet Movie Database
She Knows