I'll always remember driving through Bel Air back in July 2008. Bel Air is widely known for being one of the most exclusive suburbs in Los Angeles in which many stars past and present have made their homes. The driver turned around and said to me "See that white house up on that hill over there? That's Elizabeth Taylor's house". I was in complete awe. It was the closest I had ever been to a living old Hollywood legend. Well, that's actually untrue. When I was 7 and on a family trip to Hawaii my family and I actually met and had a photo with Tony Curtis, but this was different. Back then I didn't know about the grace and glamour of old Hollywood. Today it absolutely amazes me and if I was able to go back in time, give me a premiere of one of the 1930's or 1940's movies in Hollywood any day. Anyway, I cannot describe the way I felt when I looked at that house and knew that at that point in time, she was in that house I was looking at. That night I went home and imagined what it would be like if I was ever to meet Elizabeth Taylor. I would just be lost for words in a moment like that. I wouldn't know what to do or say, I think I would have just burst out in tears. She was such an amazing beauty, such a strong woman and an absolute firecracker of an actress.
Now, I will never know what it would have been like to meet Elizabeth Taylor. On the morning of Wednesday the 23rd of March, the legendary Elizabeth Taylor died of congestive heart failure. Taylor was admitted to Cedars-Sinai Medical Center six weeks ago with complications of her long suffering illness. During this time, she was completing her memoirs from her private diaries she had kept over the years which one would expect to have some pretty interesting informations. She must have known her time was running out. I didn't want to believe it when I first found out about the memoirs, but I think I knew that the day would come soon. She is survived by her four children, ten grandchildren and four great grandchildren.
Elizabeth Taylor was born on February the 27th 1932 in Hampstead, London. Shew was born to American parents who relocated back to the United States during 1939 when war was on the horizon. It wasn't long after that young Elizabeth found her way into the movie business after people started commenting on the beauty of the Taylor's young daughter. She was signed with MGM and stardom found her when she was cast in "National Velvet" in 1944. Taylor blossomed into a beautiful young lady and starred in such classic films as "The Last Time I Saw Paris", "Giant", "A Place In The Sun", "Cleopatra" and "Cat On A Hot Tin Roof". However, her two greatest film roles are considered to be in "BUtterfield 8" and "Who's Afraid Of Virginia Woolf?", both which she won Academy Awards for. She was nominated for another three Academy Awards.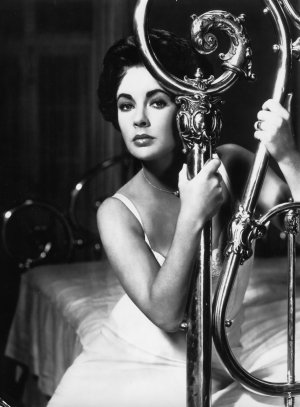 It wasn't just her amazing acting which she won media attention for over the years. She is also remembered for her tumultuous private life. Taylor was married eight times to (in order) Conrad Hilton Jr, Michael Wilding, Michael Todd (who died in a plane crash while married to Taylor), Eddie Fisher, Richard Burton twice, John Warner and Larry Fortensky. She was also extremely involved in fundraising for AIDS research and awareness as a result of her close friendship with Rock Hudson.
Taylor was an extremely lucky lady. She has come close to death various times, but each time she still had more to achieve in life and her will to live was so strong. During the filming of "BUtterfield 8" she was pronounced clinically dead. It was clearly not her time though, and she went on to win the Oscar for her performance in that film. Shirley McLaine, who was also nominated that year for her performance in "The Apartment" is famously quoted as saying "I lost out to a tracheotomy" as it was widely assumed that Taylor won based on a sympathy vote. She was had a brain tumour removed in 1997, was placed on life support in 2008 and had heart surgery in 2009. She was a battler. She wanted to live and she had so much to achieve before she left the world.
Elizabeth Taylor lived an amazing life. She personified the golden years of Hollywood and never let go of her grace and elegance. It is devestating to lose her, but she achieved so much and the world was lucky to have had her. RIP Liz Taylor.
To end on a lighter note, here is my favourite YouTube clip of Liz which makes me laugh everytime.