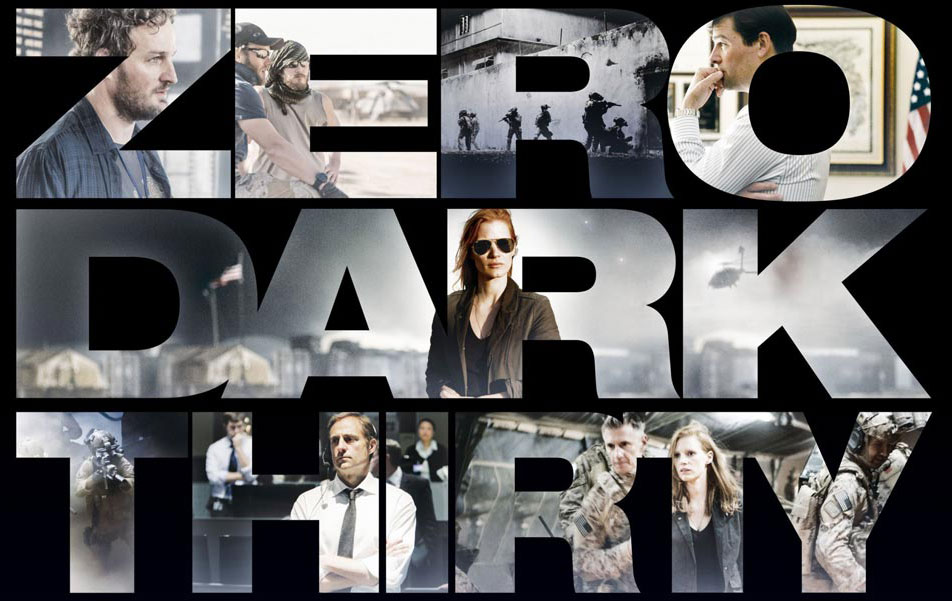 Year: 2012
Director: Kathryn Bigelow
Cast: Jessica Chastain, Jason Clarke, Joel Edgerton, Mark Strong, Kyle Chandler, Jennifer Ehle, James Gandolfini
Before I begin my review….
Well, well, well. A week before the 85

th

Academy Awards and we make it to one of the more controversial nominees, Zero Dark Thirty.
The film which claims to give an accurate representation of Osama Bin Laden's manhunt and death, has come under fire from the CIA and other sources depicted in the film.

It has been claimed by these sources that the film is not as accurate as what it proposes, but director, Kathryn Bigelow and writer, Mark Boal have come out defending their film. Boal quoted "It is a movie. I've been saying from the beginning that it is a movie. That shouldn't be too confusing".
I see why the CIA and other people feel the need to express what was and wasn't completely accurate in the film, but what Zero Dark Thirty does is not unlike every other film which is based on real life events. There are certain things which are always added and exaggerated for dramatic effect so the film remains entertaining.
Many have believed that the controversy the film has created has hurt its chance at receiving any of the awards at this year's Oscars. Personally, I think it may play a tiny part, but, as Boal said, it is a film and it is being judged at the awards as a film and not on its publicity.
Although I think Zero Dark Thirty is a very good film and it is one of the five films that really has a good chance of winning Best Picture, I am not convinced it will. I would love to see Kathryn Bigelow win her second Best Picture Oscar and I can't help but feel that she is another director whom the academy have made a mistake leaving out of the nominations. So my final word on the matter is that it is another film I would love to see win, but I don't think the odds are in its favour.
Then there is the amazingly versatile and brilliant Jessica Chastain who is up for Best Performance by an Actress. She is very deserving of her nomination and is also deserving of her first Oscar. However, it is a tough race to the finish with her and Jennifer Lawrence neck and neck. Chastain's performance is a lot more subtle than Lawrence's .Personally, I would love to give Chastain an award just for the person she comes across as every time you see her on TV. She seems incredibly down to earth and so appreciative of everything that happens to her. She has sparkle in her and she just makes you want to sit down with her and have a conversation that leaves you both in hysterics.
Don't be fooled, Zero Dark Thirty is not Kathryn Bigelow's last film, The Hurt Locker.
Although the two may look similar on the outside due to their locations and war themes, Zero Dark Thirty storyline flows through the film and gains momentum as it progresses. It is a thrilling ride and proves that even if the world knows the end of the story, that isn't an excuse for lack of suspense.
After September 11 2001, the CIA starts the greatest man hunt in history for the man behind it all, Osama Bin Laden. CIA agent, Maya (Jessica Chastain) is sent to Pakistan to interrogate detainees in the quest to track down Bin Laden's whereabouts. She obsessively searches for the man and his closest confiders for eight years before there is finally a breakthrough that she believes leads directly to the place where Bin Laden has been hiding all these years.
Films based on true events are often expected not to be suspenseful or thrilling as such because you know how they are going to finish. However, Zero Dark Thirty does not fit into this category. The film is incredibly tense at times and the final 20 minutes is nail-biting. Bigelow has the uncanny ability to not rely on a musical score to be the provider of suspense and create tension by letting the audience know early on that high pressure moments can come from nothing. She therefore keeps the audience on the edge of their seats because they are not sure what is going to happen next.
The script is very in depth and you feel as if you can't miss a word of what the characters are saying because you might miss something. This is another amazing thing for a film which is over 2 and ½ hours long. You would think with that length that there would be lots of moments of nothing, but writer, Marl Boal has packed nearly eight years into this film and there is plenty to go through. Every scene means something for the film, whether it be in the progression of the story or in character development and growth.
The editing is brilliantly done and at some points, the cinematography can be really quite beautiful. The vision of the helicopters in the night sky over Pakistan is breath taking.
Jessica Chastain is a wonderful leading lady. She exhibits perfect growth in her character by going from an almost meek girl on her first days of interrogation, to being emotionally and mentally exhausted and then completely gaining momentum to take control of the whole project. She is relatable and the audience builds a relationship with her. You want her to succeed and care about her.
Mark Strong and Kyle Chandler also give very good performances and create great support for Chastain.
Kathryn Bigelow has done it again with Zero Dark Thirty by providing us with another fantastic movie that has the ability to give you the unfortunate outcome of a sore back or neck from unbelievable tension.

References
New York Daily News
The Telegraph